The St Hallett Cellar Door is situated in the heart of the Barossa Valley, nestled between acres of lush Barossa vineyard, and the banks of the Para River, just outside of Tanunda.
Book Now

Our Address
Come visit us in the Barossa Valley.

Opening Hours
Open Monday - Sunday 10am–5pm
Closed Anzac Day, Good Friday, Christmas Day, Boxing Day and New Year's Day. Opening hours may vary on public holidays.

Contact Us
OUR CELLAR DOOR
EXPERIENCE THE HOME OF ST HALLETT
When you visit the friendly team at our Barossa cellar door, you will be invited to taste some of the Barossa's finest wines, including our flagship Old Block Shiraz, Single Vineyard Shiraz, and cellar door exclusives.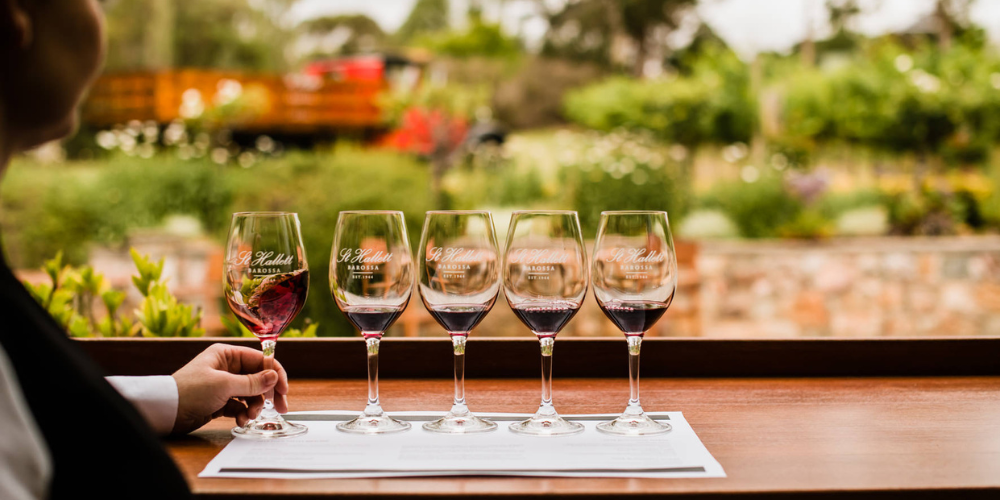 CELLAR DOOR
Wine Tasting
Discover your favourite St Hallett Shiraz with either an 'Explorer' or 'Masters' tasting where you can explore five wines from our range.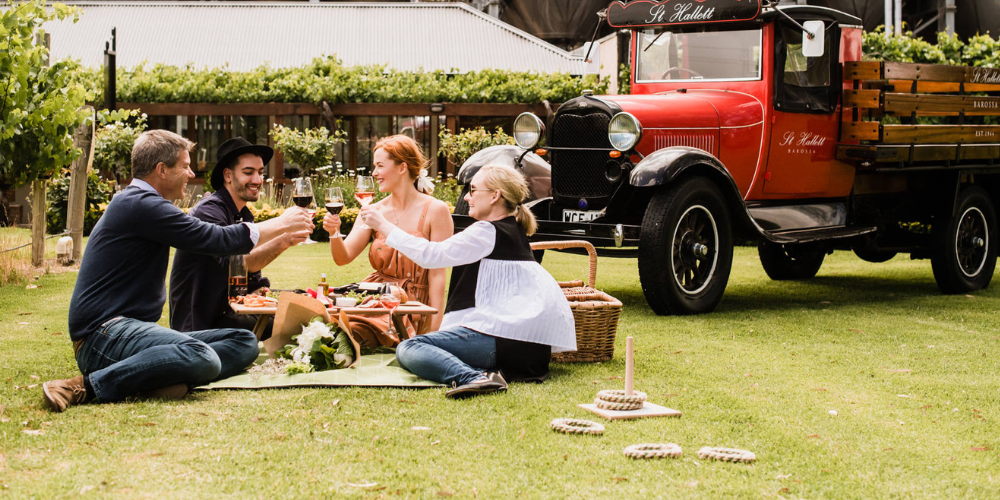 CELLAR DOOR
Expansive Lawns
Enjoy a luxury picnic on our expansive, dog-friendly lawns complete with table & chairs, bean bags & rugs.
SOURCED FROM SOUTH AUSTRALIAN PRODUCERS
Picnic Boards, Cheese Platters and Regional Boards available
We have sourced some of the finest cheeses and delicious produce to enjoy on our picturesque lawn with a glass of St Hallett wine.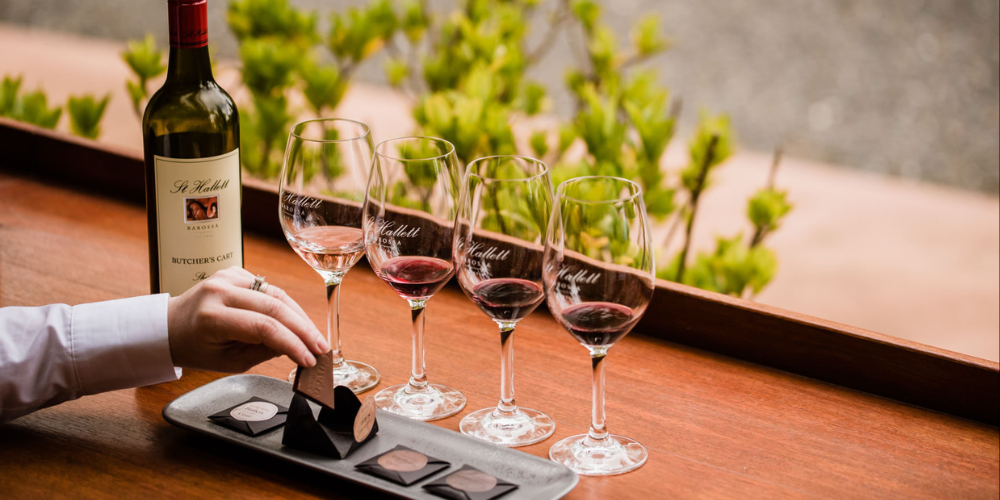 CELLAR DOOR TASTING
Wine and Chocolate Flight
Handcrafted artisan Australian made chocolates are matched to a carefully selected flight of St Hallett wines for a beautiful sensory experience.
Experience 3 Barossa Cellar Doors
TASTE & GRAZE – BAROSSA FOOD & WINE TRAIL
Experience an indulgent day of wine and food tasting at three of the Barossa Valley's most highly regarded wineries. The day starts at Grant Burge for a delicious chocolate and wine tasting of four premium Grant Burge wines expertly paired with hand-made chocolates from Just Bliss Chocolatiers. Then it's a short drive down the road to St Hallett for a matching wine and cheese flight, before heading to the final stop at Rolf Binder for a gourmet pizza lunch and wine.
FREQUENTLY ASKED QUESTIONS
What are your opening hours?

Monday: 10am–5pm

Tuesday: 10am–5pm

Wednesday: 10am–5pm

Thursday: 10am–5pm

Friday: 10am–5pm

Saturday: 10am–5pm

Sunday: 10am–5pm



Closed Anzac Day, Good Friday, Christmas Day, Boxing Day and New Year's Day

Opening hours may vary on public holidays
Do you have to make a booking?

While we warmly welcome walk-in visitors, we highly recommend making an online booking to guarantee your spot, particularly during busy times such as long weekends, public holidays, and holiday periods like Christmas and New Year. In case our cellar door tasting room reaches its capacity, you will have the chance to make a tentative booking on the same day for a more suitable time that fits your Barossa Itinerary. Additionally, if you prefer to have some flexibility, we suggest calling ahead at 8563 7070 to check availability before your expected arrival.
Is the tasting fee redeemable?

Our tasting fee is non-redeemable on purchases however upon joining our wine club you receive immediate discounts off your wine purchase which go towards offsetting this fee.
I want to be flexible on the day, can I walk in at whatever time suits my itinerary?

Absolutely! All visitors are welcome at Cellar door. We do advise though to make a reservation to save your place on long weekends and school holidays as we do experience an influx of visitors at those times. Please call ahead to check availability.
What are you most famous for?

Shiraz of course! Our brand started in 1980 with the renowned Faith and Old Block Shiraz. In 1994 the first release of the Blackwell Shiraz was launched and has become one of Australia's most collected wines.
Do you allow dogs at your cellar door?

Yes, we are dog friendly. We have expansive lawns and plenty of space for your furry friend. If you have any requirements or enquiries please give our team a call.
Do you allow family groups to picnic on your lawn?

Yes, we certainly welcome family groups for picnics on our lawn area by appointment only. As we are servicing other visitors within this area and our very own online picnic bookings we do ask that you phone ahead for availability or call our cellar door on 8563 7070. For all groups larger than 12 people and with Parties or special occasions a site fee maybe applicable depending upon duration and size of group. Please call cellar door to discuss individual requirements and applicable charges. Please note that grounds are available for use between 10.00am and 4.00pm. We do encourage you to purchase food and wine onsite. Specific dietary requirements and children's meals are an exception. No BYO alcohol, Beer, Spirits, mobile BBQ's or trailers. All patrons are required to register in cellar door before entering winery grounds.
Do you hire your grounds for weddings, parties etc?

Yes, please call out cellar door 8563 7070 for packages and applicable charges
Do you offer food? And wine the by the glass?

Yes we offer a selection of cheese platters suitable for GF and Vegetarians. Vegan options are available within 24 hours' notice. All our wines on our beverage menu are available by the glass. We also have water and a small selection of soft drinks. Additional items: Barossa Valley Ice creams and Cuvee Chocolate.
What tours do you have available? Do you conduct winery tours?

At this stage we do not conduct winery tours for the public.
Do you take large group bookings?

Yes. Maximum number for group bookings for our intimate cellar door is 8 people. Groups between 8 -12 people are hosted in a private tasting room. Bookings can be made on line using the Group Booking option. is available to book online. $25.00 pp and includes the Barossa Explorer wine flight and cheese platter to share. You are hosted in a private tasting room.